Confidential Safety Audit
Providing Safety Audits and Operational Overviews
for Air Taxi, Part 135, and Charter Airlines
Operating Modern Bush Planes.


The Bush Pilot Company can provide a Confidential Safety Audit and Operational Overview for companies operating Cessna Caravan, Kodiak 100, and Twin Otter. The audit will help each company to review or implement their own Safety Management System as defined by Transport Canada or FAA and recognized by ICAO.
A safety management system is a businesslike approach to safety. It is a systematic, explicit and comprehensive process for managing safety risks. As with all management systems, a safety management system provides for goal setting, planning, and measuring performance. A safety management system is woven into the fabric of an organization. It becomes part of the culture; the way people do their jobs.

A safety management system will provide an organization with the capacity to anticipate and address safety issues before they lead to an incident or accident. A safety management system also provides management with the ability to deal effectively with accidents and near misses so that valuable lessons are applied to improve safety and efficiency. The safety management system approach reduces losses and improves productivity.
The Bush Pilot Company Safety Audit and Operational Overview
will report on:
Organization structure including management, policies, controls, programs, internal audit systems, communications, flight following, emergency plans;
Internal safety management including reporting systems, staff selection, recording systems, program outputs, procedures, effectiveness, training;
Flight operations including management inputs, flight operations manual, standard operating procedures, flight crew and cabin crew standards and qualifications, scheduling, crew and passenger safety briefings, crew check-list usage, minimum equipment list (MEL) following, records adequacy and accuracy, accident, incident, and near-miss reporting and analysis;
Aircraft maintenance and engineering overview including management control, general maintenance manual, programs, maintenance standards, maintenance planning and scheduling, quality control, stores and spares, mandatory modifications, deferred maintenance and MEL, weight and balance control, maintenance records;
Training of management, flight crew, cabin crew, ground crew and maintenance personnel including personnel selection standards, initial/recurrent/proficiency training, safety program briefing;
Aircraft facilities and support equipment including general safety, fire prevention/contingency plans, hangar maintenance, equipment maintenance programs, environmental and workplace safety practices/regulatory compliance;
Airport operations and facilities including communications, ground handling, ramp procedures, ramp safety, surface conditions, foreign object damage control, aircraft rescue and fire fighting services, fueling services and quality control; and,
Aviation security program including main passenger and cargo facilities, aircraft in-service protection, and remote base "self dispatch" procedures.
The Bush Pilot Company can help improve both efficiency and safety
thereby reducing costs.
Maintaining safety margins and reducing risks requires emphasizing safety in the company's overall planning, decision-making, and resource allocation. One of the best development tools for this purpose is a confidential, independent aviation operational safety audit. The Bush Pilot Company brings nearly three decades of operational experience and aviation professionalism to completing this task and helping your company to forge ahead into the future. Once the audit has been completed, moreover, The Bush Pilot Company can help you to implement your decisions with the following Operational and Training services:
Flight Operations Manuals and Standard Operating Procedures - updating documents to reflect the reality of the operation as well as implementing Standard Task Procedures for each step of the day-to-day operation;
Flight Operational Risk Management - setting procedures using base line operational data, operational experience, and careful assessment of accident and incident reports;
Airport Safety and Efficiency evaluation - insuring the pilots get the most out of each airport environment and that they are not taking unnecessary risks;
Airworthiness Risk Assessment - insuring aircraft specific MELs are usable and practical and that the maintenance department is coordinating efficiently with the flight department to insure on time performance;
Dispatch and Operational Efficiency - implementing "quick turn" procedures without compromising flight safety;
Contingency plans for accidents and incidents - developing effective plans that work during a crisis;
Preparation for mandatory, regulatory, or pre-qualifying contract audit;
Implementation of day-to-day safety and operational refinements during on going operations;
Advanced Training Programs for Training Captains, Chief Pilots, and Flight Crew, including Crew Resource Management and Situation Awareness courses.
To get your airline off the ground with area and aircraft specific operational training, and to insure you have done the most to protect your investment have The Bush Pilot Company give you a quotation today.
By John S Goulet

Operational Flight Training Services
Caravan, Kodiak 100, and Twin Otter.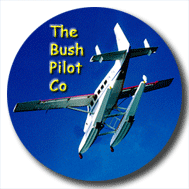 Top of this page.
Last modified on April 22, 2020 .
© Virtual Horizons, 1996.